Playa del Carmen Condominiums For Rent Or Sale
Conveniently located in downtown Playa del Carmen, you'll find Jan and Mike, experts and owners of Vimex Condo rentals. Whether you're looking for short or long term rentals or real estate to purchase, Vimex Condos offers a quality selection of properties.
Click on the links below for information, rates and photos.

One Bedroom
Two Bedroom Penthouse Condos for Rent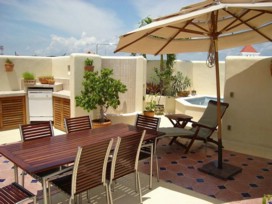 Two Bedroom Luxury Penthouse PK - 24 Step into luxury in this spectacular two bedroom, three bath room, penthouse with functional rooftop terrace including a six person Jacuzzi, outdoor rooftop kitchen, with grill, dinning, outdoor shower and living area. This vacation penthouse is centrally located within the heart ...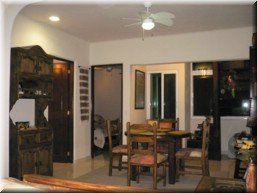 Two Bedroom Luxury Penthouse PK- 33 Located just 2 blocks from the beach and 1 block from the fashionable and lively 5th Avenue in Playa del Carmen, Casa Dorothea, a Penthouse Condominium, offers a haven that will make this your best vacation ever. Casa Dorothea offers 2 bedrooms and a private rooftop terrace ...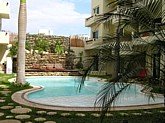 Two Bedroom Luxury Penthouse PK- 29 Right in the center of the cosmopolitan village of Playa del Carmen and a short walk to the beach. You will find this very spacious new penthouse perfect for you. It is a complete getaway with two comfortable bedrooms, two beautiful bathrooms, large living and dining room with fully equipped ...

Two Bedroom Designer Home MA202 Margaritas apartment is located in central Playa del Carmen. A 5 minute walk to the most beautiful beach in the area and 4 minutes to the restaurant and shopping area on 5th Avenue. The apartment is brand new, 95 square meters, 2 bedrooms, 2 bathrooms, a big kitchen, living room and two big balconies.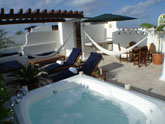 Gorgeous Two Bedroom Penthouse With Ocean Views - L0306 Breath-taking, 2 bedroom, 2-1/2 bathroom Penthouse with roof-top Jacuzzi, Ocean views, one block from the white sand beaches and Turquoise waters of the Caribbean Sea. The Master Suite has King size bed with balcony adjacent and private bathroom. Second bedroom has two Queen sized beds with private bathroom ...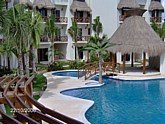 Two Bedroom One Block From the Beach - LA22a This enchanting oasis is located one block from Playa del Carmen's Famous Coco Beach/ Coco Bay where you and your family can spend a relaxing sun and fun drenched vacation. Les Alizes is a brand new private Condominium Complex with lush gardens, complete with outdoor grilling area, and a gorgeous pool, Jacuzzi with wate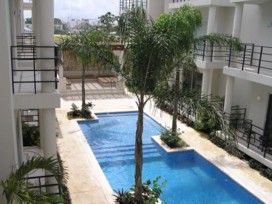 Exceptional Getaway Aqua Terra - AT207 This exceptional two bedroom, two bath vacation getaway is affordable and impeccably decorated. Newly completed and furnish with a contemporary flare and touch of romance. Each bedroom has a queen size bed with canopy and drapes to create an atmosphere of resting comfort. Coverings are of the best cotton quality bedding . . .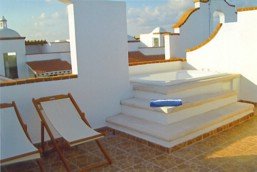 Two Bedroom Luxury Penthouse - LG305 Casa Carbonara is a quiet, relaxing, bright, completely furnished, new two bedroom, two bathroom penthouse with Jacuzzi, roof-top lounge, minutes from world famous Fifth Avenue and the beautiful turquoise ocean waters and white sand beaches of Playa del Carmen.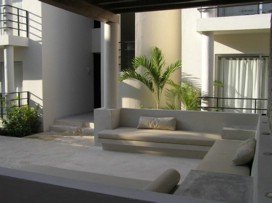 New Contemporary Aqua Terra - AT101 New contemporary two bedroom, two bathroom condo, beautifully decorated, centrally located, Four walking blocks from Playa del Carmen's "Mamitas Beach" and only two walking blocks from world famous "Quinta Avenida", also known to many as Fifth Avenue. This vacation rental is ideal for two couples or ..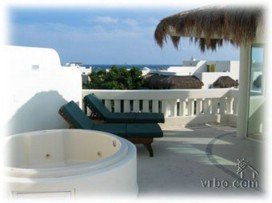 Impeccable Penthouse With Ocean Views LP4 This penthouse condo has it all. Located just two blocks from the beach on the very popular promenade "Quinta Avenida" in the Little Italy section of Playa del Carmen. This spacious two bedroom penthouse condo with indoor access to your own private roof-top terrace with Jacuzzi and lovely view of the Caribbean Ocean is excellently ...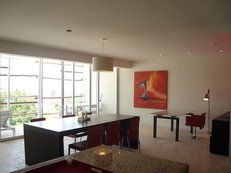 Luxury 2 Bedroom with Ocean View - MG202a Experience luxury living in this spectacular open floor plan, ocean view condo, just a few steps away from the white sandy beaches and the magical turquoise colored waters of the Mexican Caribbean. This spacious two bedroom, two bath ocean view condo has a grand private terrace with ...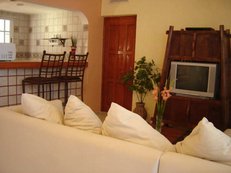 Charming Hideaway in Little Italy PA - G This charming two bedroom, two bathroom vacation condo is located in the heart of Playa del Carmen's quaint "Little Italy" section. Fully furnished, professionally decorated, with a large thatched roof porch, Dish Network Satellite TV, high speed internet, US Vonage Telephone service included, well lighted bedrooms that sleep two ...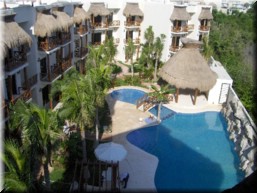 Ocean View Two Bedroom Penthouse LAC31 Lovely brand new 2 bedroom, 2 full bath, penthouse with ocean views, perfectly located just 50 meters from Coco Beach where it is quiet and the perfect escape for you and your family in paradise. Beautifully decorated with a rooftop terrace, 3 balconies, one King size bed, two single beds, and a convertible sofa which sleeps two. You and your family will enjoy the lush gardens as well as the gorgeous pool area which has 2 Jacuzzis and a baby pool. Parking, maid service on request, 24 hour security, linen services, beach chairs, stroller and much more.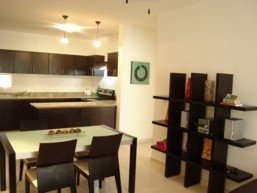 Contemporary Two Bedroom Condo AT109 Just completed contemporary designed two bed room, two full bathrooms gorgeous condo that has all the amenities imaginable. Relax in the complex pool with separate lounge area. Perfectly located in downtown Playa del Carmen close to Mamitas Beach, Shangri-La Beach, Fifth Avenue, Walmart, Mega, Specialty shops, Night clubs, Restaurants, cinemas, and an endless array of water sports and activities. Designed and decorated to the highest standards with granite and marble counter tops,...


Exceptional Two Bedroom and Balcony - PK18 This beautiful property is in downtown of Playa del Carmen, just a few steps from the famous 5th Ave where you will find a great choice of restaurants, nightlife and shops and only three blocks away from the gorgeous beach. Enjoy the warm, friendly ambience. Frequently visitors tell us how happy they are to discover ...
Next Page

Back To Top


Return from Playa del Carmen Condominiums for rent or sale to the home page